Have you ever wondered what the word 'sprout' really means? You may have heard that eating sprouts is good for you. But, what are sprouts? Learn more about sprouts and sprouting here!
Jump to: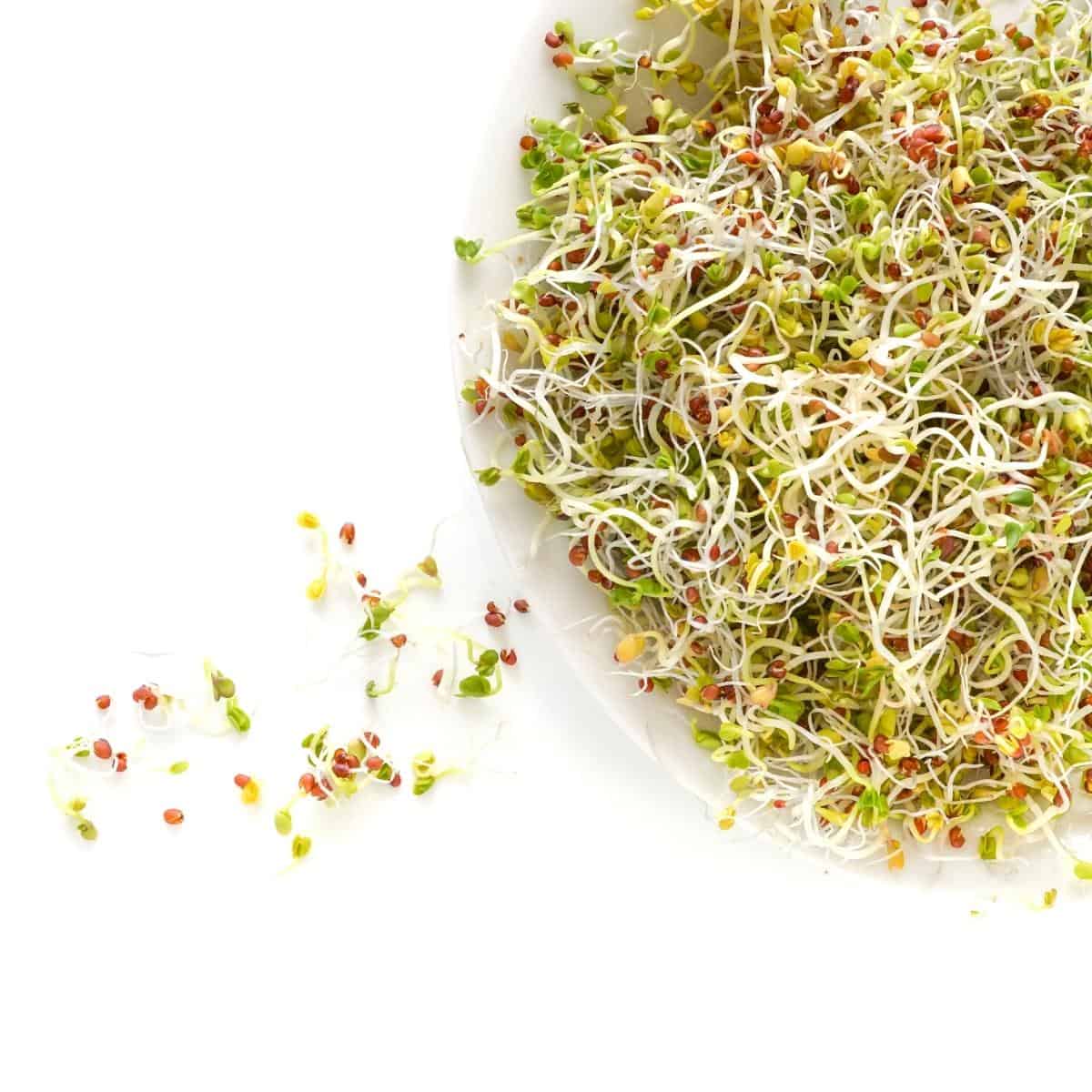 What is Sprouting?
Sprouting is a natural part of the life cycle of many plants. When plants germinate, they may produce new leaves and buds, and for seeds, germination looks like making shoots. These shoots are known as sprouts.
You may have witnessed sprouting in your kitchen! Have you ever left a potato for long enough that it starts to put out those little shoots? That's the potato sprouting process.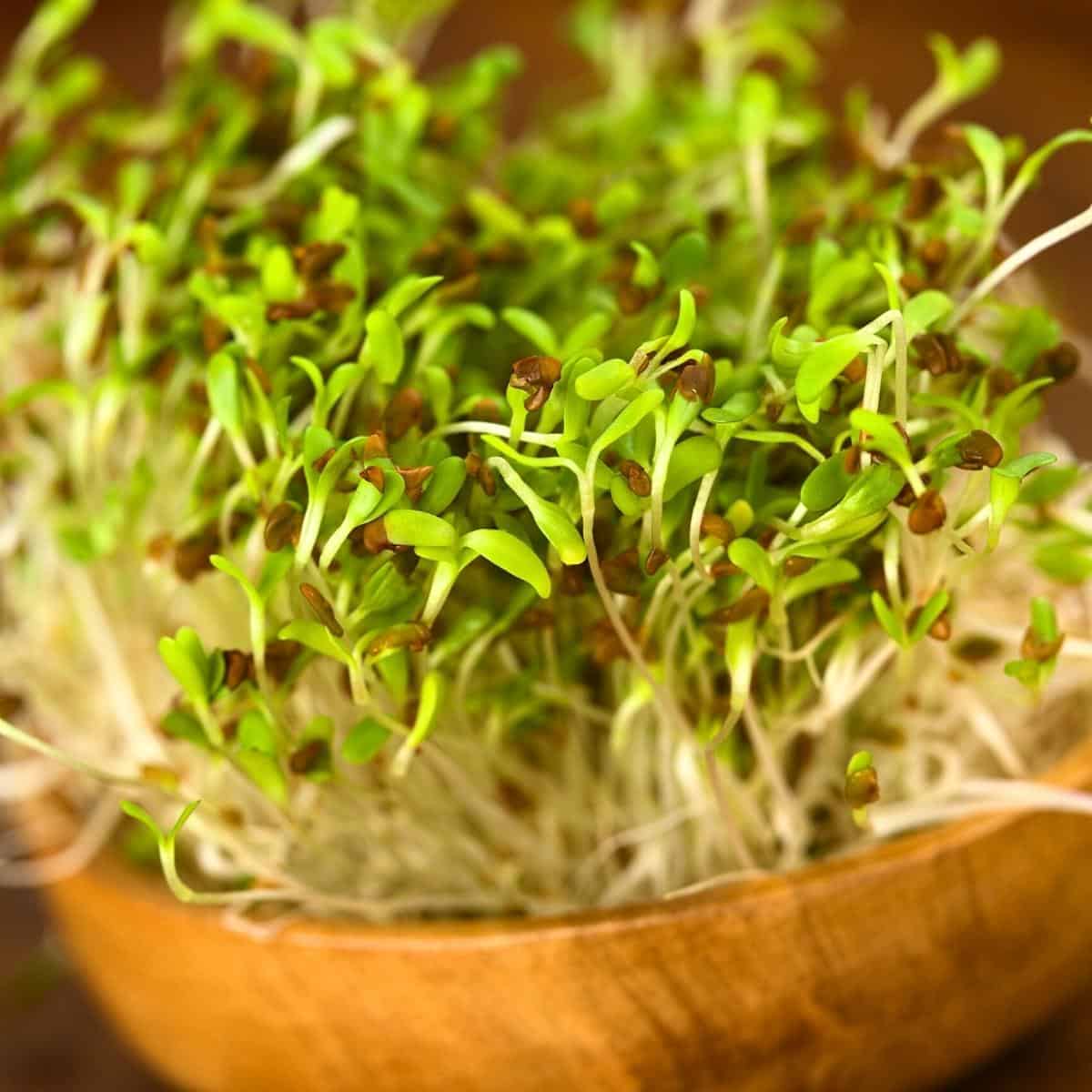 Why is Sprouting So Important?
Sprouting is an essential part of the life cycle of plants because it allows new plants to grow, and it also means that plants can wake again after periods of dormancy.
Many plants spread their seed far from where they are planted, so there isn't too much competition for nutrients within the same soil. As a result, seeds can lie dormant until they find themselves in a location with the right conditions, at which point they put out sprouts to allow them to absorb the nutrients they need and start to grow.
In the same way, plants will often shrink down in unfavorable conditions, for example, over the winter months. Doing this allows them to conserve energy and survive when they can't access the nutrients, water and light that they need. Then, when conditions improve, they put out sprouts in much the same way as a seed does to allow them to grow again.
Why is Sprouting Good for You?
Sprouting is low in calories, high in nutrients, and the health benefits are many, making it a valuable addition to any diet.
In addition, foods made from sprouting, like tofu, are high in protein but low in fat, and the proteins contained in sprouts may be easier to digest.
Sprouts are also said to improve digestion, regulate blood sugar levels and may even be helpful against heart disease.
Nutrients and Anti Nutrients
The specific nutrient profile will depend on the type of sprout, but you can usually expect to find high levels of:
Folate (essential for the formation of red cells)
Magnesium (supports the muscles and nerves)
Phosphorus (builds bones and teeth and helps filter waste in the kidneys)
Vitamin K (needed for blood clotting and bone formation)
Sprouting will often have higher levels of these nutrients than fully grown plants.
The sprouting process also reduces the number of anti-nutrients (aka phytic acid) in the plant, which are compounds that decrease your body's ability to absorb nutrients.
Can I Sprout Anything?
You can sprout most seeds, legumes, beans and nuts which are intact and haven't been husked, hulled, pearled or altered any other way. You must ensure that the germ and bran are intact and that seeds are raw, not cooked.
It's important to note that not all sprouts can be eaten raw, so you may need to cook them before they are safe to consume. For example, kidney bean sprouts will need to be cooked thoroughly before eating them as they contain toxins.
(The FDA recommends cooking all sprouts before eating them, as there is a chance that bacteria can grow during the sprouting process.)
Always ensure that you use nuts, grains, and seeds meant for eating and sprouting instead of those for agriculture or gardening. Organic options from the grocery store work well, as do items from sprout-specific shops.
Choosing Seeds for Sprouting
If you're starting with sprouting, your local health food store is a great place to visit for advice on which seeds you can use for sprouting.
A small sample of seeds that work well for sprouting are:
Alfalfa
Broccoli
Buckwheat
Celery
Chia
Chickpeas
Clover
Corn
Fenugreek
Kale
Lentils
Millet
Mung beans
Onion
Pumpkin
Quinoa
Radish
Sesame
Sunflower
There are some types of seeds that you shouldn't sprout as they can be poisonous. Anything from the nightshade or Solanaceae family is a no-no, so avoid eggplant, potatoes, peppers and tomato. You should also avoid rhubarb.
Choosing Sprouting Equipment
All you will need for sprouting is a jar or bowl for soaking the seeds initially, and a mason jar with some kind of mesh lid that allows air to circulate and liquid to drain. You can also buy a sprouting jar (which is essentially the same thing) specifically for this purpose. The jar is where the moist seeds will begin to sprout. While not necessary, it is also very helpful to also buy a sprouting stand to hold the jar in place, upside-down, while the seeds are sprouting.
When choosing your jar, ensure that it is big enough. I prefer to use the wide-mouth variety. When you soak your seeds, they will increase in size, so make sure they have room to do this.
For your mesh lid, you can get plastic or metal sprouting lids that fit on top of most jars. Alternatively, you can use a cheesecloth secured in place with a rubber band.
You can buy jar stands that can be manually adjusted to fit the jars you choose to use. These sprouting stands will hold the jars in place in an inverted position while the sprouting magic takes place.
If you're planning to sprout a few different types of seeds simultaneously, you can buy a tiered sprouter so you can keep them separate but still sprout them together.
Choosing A Sprouting Method
There are a few different sprouting methods to choose from, including wrapping your seeds in wet paper towels and sealing them in a Ziploc bag and embedding them in damp rockwool.
However, the best way if you're planning to eat your sprouts is to use the jar method. The jar method is the most hygienic, minimizing the risk of bacteria growing.
Begin by cleaning your equipment thoroughly in hot soapy water. You should also rinse your seeds thoroughly.
Next, identify a good spot in your home. The best place for sprouting is light and airy, but not in direct sunlight and has good airflow.
To begin the germination process, you need to soak your seeds in water. First, place your seeds in a bowl or jar and then top up with water; you'll need around three times the amount of water than there are seeds. Then, put the bowl in a dark place at room temperature, and leave them for 8-12 hours.
Once you have soaked the seeds, they will need to be rinsed 2-3 times daily in cool water until they begin to sprout. Rinsing is crucial as it stops bacteria from growing. When you are waiting for the seeds to sprout, be sure to keep them at a temperature of around 68°F (20°C); the seeds need to be warm but not too hot.
While waiting for your seeds to sprout, it's essential to encourage airflow. Seeds need to be damp but not wet. Keep them in a jar or container, and ensure they aren't too tightly packed.
Once the seeds have sprouted, you can harvest them. Give them a final rinse, and drain them thoroughly. You should dry sprouts before storing them, so put them in a muslin or tea towel, then dry with a kitchen towel before moving them to a storage container in the fridge.
Your homegrown sprouts will keep in the fridge for anywhere from 5 days to 6 weeks, depending on the type of sprout.
Ways To Use Sprouted Seeds
Sprouted seeds are incredibly versatile. They add a fantastic crunch and texture to salads, sandwiches, soups, burgers, stir-fries and many other dishes.
Try them sprinkled on top of your bowl of noodles, or even in baking! Grain sprouts with a nutty flavor are particularly delicious when used in seed bars, pasta, breads, crackers or cookies and cakes. You can also blend them into smoothies and sauces.
Summary and Recommendations
In summary, sprouting is a great way to get more nutrients from nuts, grains, and seeds and add texture and flavor to meals. When sprouting, be careful to choose whole grains that are safe to eat, and always wash both the grains and equipment thoroughly.
Sprouting is a terrific project if you want to see something grow, particularly if you don't have a garden, and it's perfect for teaching children, too!